Inverters and Power Backup
We create innovative, high quality and cost effective solutions
Power Backup Systems - Inverters and Batteries
Inverters and battery systems keep the power on during outages, preventing productivity losses, avoiding perishable food waste, and eliminating costly repairs. Backup power systems can also make it possible to use the solar energy you produce outside of daylight hours to power your home or office. 
Our Flagship brand of Inverters and Batteries known as DALTRON, has been widely accepted in the market as a top quality long backup solutions for various applications. These state-of-the-art Digital inverter systems provide pure, regulated power to your sensitive equipment and ensure the operational continuity of your home appliances, ICT equipment and Data Center.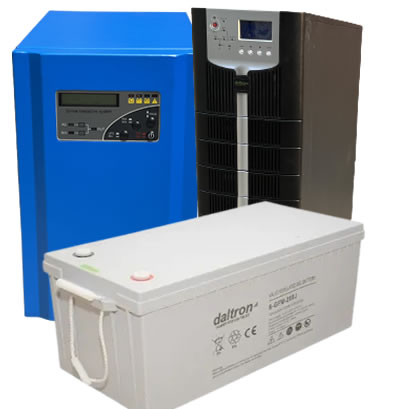 WHY YOU NEED AN INVERTER / BACKUP POWER?
Backup Power is a system that connects to electricity sources, typically solar panels and the electric grid, to store excess power and return it to your home or office when you need it.  In most cases, your backup power supply will come from an Inverter system which includes a battery. Today's solar batteries are also intelligent energy management systems that can optimize your home's energy usage to take advantage of utility time-of-use plans or to ensure that your electric car is charged with solar power.
GET AN INVERTER INSTALLATION QUOTE
Take the first steps toward energy savings. Find out how much you could be saving with our inverter solutions for your home or office. Request a quote for inverter installation .